Warehouse Safety Guide
In 2019, according to the U.S. Bureau of Labour Statistics, the transportation and warehousing worker injury rate was 4.4 per 100 full-time workers. Unfortunately, warehouse injuries and fatality rates continue to rise.
Just like a manufacturing facility or a chemical plant, warehousing requires oversight and enforcement of safety measures.
And though it may not be as complex as dealing with the safety of handling chemicals and other hazards, ecommerce warehouse safety has always been an important component of warehouse management.
So how does an ecommerce warehouse protect employees as they move quickly from the inventory shelves to the warehouse picking and packing stations?
In this article, we discuss ecommerce safety guidelines and tips to keep your warehouse staff safe and productive.
So, what do you want to learn?
Request Fulfilment Pricing
Let's talk. Our experts can help you boost your order volume by 30% year over year.
A fulfilment expert will get back to you shortly.
Distributed Inventory: How Multiple Fulfilment Centres Can Reduce Transit Times & Shipping Costs
Ship faster & save money by splitting your inventory. Learn how.
Download the guide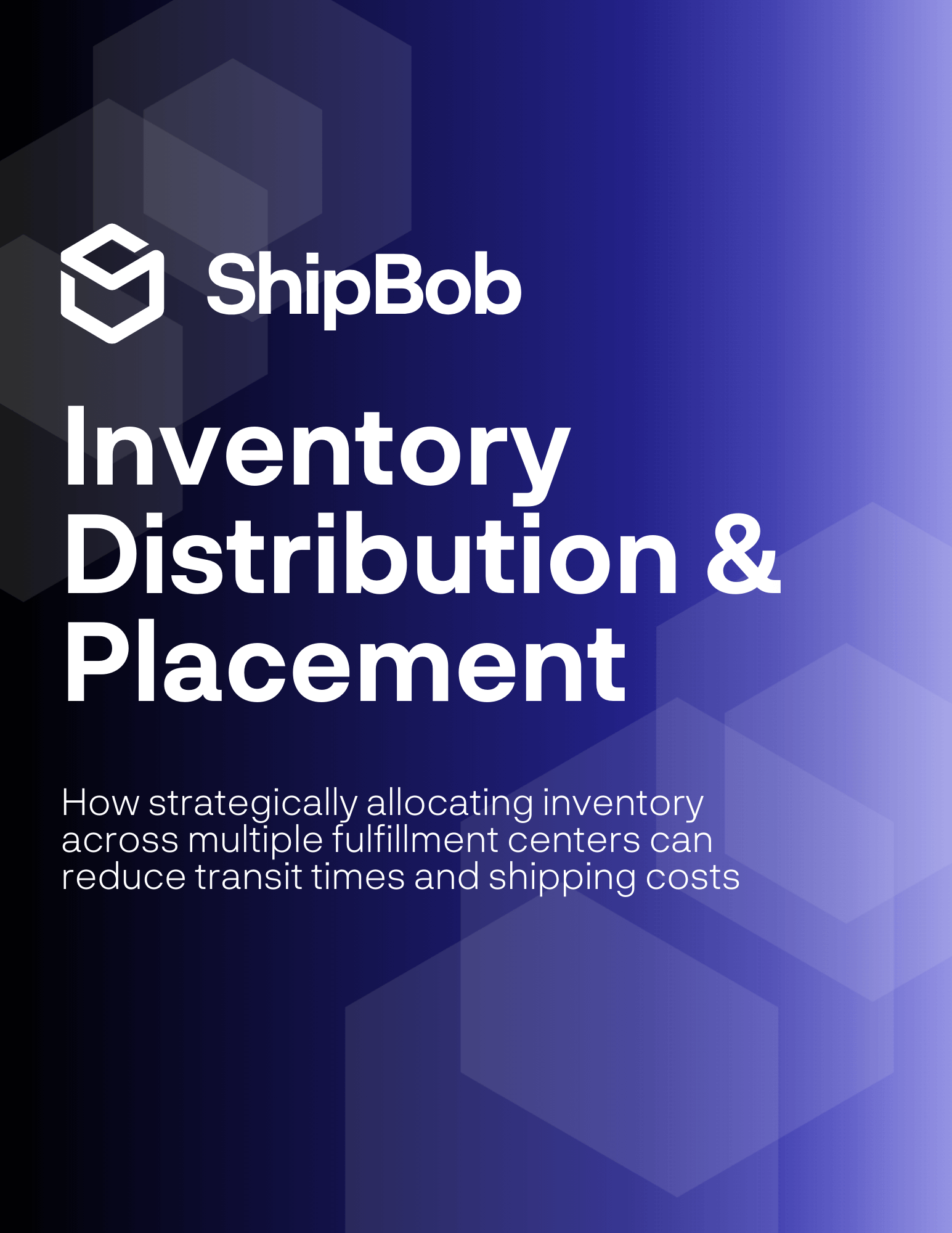 A quick history of warehouse safety guidelines & regulations
Warehouse safety was not always strictly enforced. There was no set training on safety, with the emphasis solely relied on getting the job done quickly.
As a result, many workers had been injured from dangerous substances, improper lifting techniques, and other hazards.
In 1970, the US government formed a group to regulate and oversee the safety of people in the workplace. This group is known as the Occupational Safety and Health Administration (OSHA).
The formation of OSHA ushered in new priorities of keeping workers as safe as possible. They insured protection against dangerous building substances, like asbestos, as well as implemented different safety guidelines.
OSHA continues to set strict standards and guidelines to protect employees that work warehouses, factories, and other types of facilities.
ShipBob's Warehouse Management System (WMS)
ShipBob's WMS helps your warehouse reduce picking errors, manage inventory in real time, and fulfil orders faster.
Why warehouse safety is so important
OSHA still plays huge role in manufacturing, logistics, and other types of industries.
In many cases, ecommerce warehouse are not exposed to dangerous chemicals, but there are still hazards to consider, such as operating equipment and handling heavy items.
In order to avoid OSHA fines or lawsuits from injured employees, you must follow OSHA guidelines for warehouse management. As of today, OSHA recognizes 10 warehouse standards, which include:
Forklifts
Hazard communication
Electrical, wiring methods
Electrical, system design
Guarding floor and wall openings
Exits
Mechanical power transmission
Respiratory protection
Lockout / tagout (LOTO)
Portable fire extinguishers
In addition to keeping up with OSHA standards, here are four primary reasons why maintaining a safe warehouse safety is important.
1. Protects your warehouse employees
Warehouse safety keeps workers in a fulfilment centres safe. Warehouse employees have always been considered essential workers.
For instance, logistics and ecommerce are sectors that kept the economy running during the COVID-19 pandemic, so safety played a significant role in keeping the ecommerce supply chainrunning.
Protecting employees should always be a priority as it allows for you to run your warehouse operations more smoothly without the need to shut down operations or risk injury.
2. Higher warehouse productivity
Many warehouse safety measures force you to implement more efficient systems and practices. For example, not leaving random junk in the middle of the floor is both safe and makes getting around on a forklift easier.
The way you set up workflows within your warehouse can help improve safety and productivity. For instance, creating a one-way workflow can be an efficient way to set up warehouse workstations as it helps to ensure safety and eliminate congestion.
3. Reduces inventory damage
Many safety standards protect your ecommerce inventory from damage. Especially when it comes to heavier or larger items, by storing inventory properly, you can prevent items from falling and getting damaged, or even putting your staff in danger.
Proper warehouse inventory management not only optimises logistics costs and protects finished goods, but it also helps keep warehouse employees safe.
4. Prolongs the life of warehouse equipment
One focus of warehouse safety involves properly maintaining equipment, such as forklifts. Improperly using equipment leads to quick degradation and results in more money for repairs and new pieces.
Maintaining equipment, including offering safety courses and certifications on how to properly handle these machines, will prolong the life of the equipment and help ensure your team understands the intricacies.
Note: Warehouse automation can also help promote warehouse safety but can also lead to injuries if people aren't well-trained or certified to use the equipment, and if people don't follow instructions. When introducing new equipment and automation tools, be sure to provide consistent, recurring training.
Common warehouse safety hazards & injuries
There are common safety concerns that present themselves in each warehouse.
In order to create a safe work environment, employers should be aware of the various risks. The following hazards should be regarded with extra care and precaution.
Manual handling
There's no doubt about it, working in a warehouse is a labourious task. As such, manual handling should be minimised when possible.
Lifting, stooping, reaching, and twisting are all forms of manual handling. In order to minimise the strain put on employees, these precautions should be considered when handling items.
Never attempt to carry more than your strength capacity.
Spread your feet squarely, bend at the knees, and keep your spine straight when lifting items. Be sure to get a firm grip on the object.
Lift with your legs and hold the item close to your centre as you carry it to its destination.
Hazardous chemicals
Chemicals such as acids, flammables, oxidizers, toxics, explosives, and other substances can be found in warehouses, which is why employees should be cautious when handling those types of items.
These hazardous chemicals can be dangerous, so proper PPE should be provided and training should be required to all employees who may handle them in order to avoid injury. Additionally, these items should be stored in cool, well-ventilated areas, be marked with caution signs, and sit on study shelves where they cannot be accidentally knocked over.
Heavy equipment
Operating heavy equipment like forklifts comes as a risk for warehouse employees. The most common injuries occur when workers are struck by heavy machinery or fall from the equipment itself. Resulting health issues can range from sprains and broken bones to other more fatal injuries.
In order to prevent these injuries in the workplace, employers should create a safe environment by providing PPE, properly maintaining equipment, training employees to use communication protocols, and meeting OSHA guidelines.
Machine entanglement
Machine entanglement can occur when an employee is pulled into heavy machinery such as conveyor belts or sorting equipment by loose-fitting clothes or by their hair. This type of accident can lead to serious injury or death.
To avoid these types of accidents, employers should train employees how to use the equipment, regularly inspect and maintain machinery, and enact a dress policy that prohibits loose clothing and accessories.
Conveyor belts
Conveyor belts can cause injury to employees in ways other than just machine entanglement. Getting fingers caught in the machinery or crushing a hand by clearing the belt are both examples of injuries caused by a conveyor belt.
Increasing the speed of the conveyor belt or overloading the conveyor belt may seem like a good way to boost productivity, but ultimately they can lead to accidents and injuries. Warehouses should set conveyor belts to a moderate speed and maintain a balanced conveyor belt load to avoid workplace injuries. And as always, employers should offer proper employee training and conduct regular maintenance on the equipment in order to best protect workers from harm.
Warehouse safety checklist
There's a lot that goes into warehouse safety. To help you get started, below is a comprehensive warehouse safety checklist.
Note: Be sure to also refer to OSHA's Warehousing standards.
1. Set warehouse safety standards specific to your warehouse
Depending on the size, type of products, equipment, total staff, and type of order fulfilmentservices performed, every warehouse will operate slightly different. Consider how your warehouse needs to operate and set standards specific to your warehouse.
For instance, if you store heavy items, be sure to set standards around forklift operations and storage, as well as designate forklift routes to avoid congestion.
2. Schedule warehouse audits
Be sure to regularly schedule warehouse audits to ensure that OSHA guidelines are being followed.
Observe fulfilment and inventory management processes, warehouse employee behaviour, quality control, and also other equipment like forklifts to ensure safety compliance and maximum efficiency.
Basic audits should be done daily or weekly, but a more detailed audit should be done at least once a year. Scheduling warehouse audits ensures you don't get hit with OSHA fines or lawsuits from injured employees.
3. Train your warehouse employees on safety regularly
As your warehouse evolves and you hire more employees, make sure the team is kept up to speed on everything. Regularly train them on the expected protocols to ensure their safety.
Conduct initial training for all new hires and schedule ongoing training sessions. If you introduce a new piece of automation or equipment, be sure that all employees understand how to use the equipment safely to avoid misuse that can put them in danger.
4. Install the right warehouse signage
Proper signage can help save employees' lives. Clear signage on emergency exits, fire extinguishers, and first aid kits are crucial. To ensure that employees follow warehouse protocols, be sure that instructional signage is also posted.
When your warehouse team knows what hazards exist and what safety-related performance is expected, productivity increases, since employees will know exactly how to perform operations and respond effectively in case of an emergency.
To view OSHA's signage guidelines, click here.
5. Check warehousing floors
Make note to check the entire warehousing floor and keep walkways clean and free of any clutter that can get in the way of people and operating machines (including designated walk lanes to stay out of the way of equipment).
You might also want to consider finding ways to improve employee movement and efficiency by optimising warehouse picking processes, as well as using tape to outside traffic ways and designated work stations.
To avoid slips and falls, always be sure to keep cables tied up and remove anything that could become a trip hazard.
6. Audit warehouse layout
Warehouse setup has a big impact on safety. Evaluating your warehouse's layout with safety in mind allows you to identify potential safety issues.
Can your team move freely? Is the space designed to minimise safety risks?
Be sure to create safe productivity zones for your employees to move throughout the warehouse efficiently. Plan ahead to avoid unnecessary congestion or overcrowding of staff. This will also help to eliminate error during the order fulfilment process and improve order accuracy.
7. Provide warehouse PPE
OSHA requires all employers to provide the right PPE (personal protective equipment) for their employees. Every warehouse owner is responsible for:
Providing PPE for all employees
Training employees on proper use and care of PPE
Maintaining PPE and replacing as needed
Common types of PPE include hard hats, high-visibility jackets, safety glasses, safety boots, and gloves, which are used depending on the materials handled, current conditions (e.g., during a pandemic), and other situations.
8. Observe warehouse lighting across workstations
Make sure all areas of the warehouse have clear lighting.
Employees can easily get injured working in dimly lit areas. Low lighting can result in lack of visibility, and as a result, employees can get easily injured.
Other environmental factors that can cause hazard include loud noise levels (e.g., loud music playing) or too high or very low room temperatures.
9. Keep your warehouse clean
Basic warehouse hygiene involves sanitation as well as keeping things tidy, in order, and out of the way. This prevents the spread of disease and the potential for something to injure themselves on an unseen hazard.
Keeping floors and workstations free of clutter ensures that employees can freely move around their workstations.
10. Test fire safety placements
Make sure to check the fire safety placements. Running regular tests allows you to catch when something is not working properly.
To learn more about OSHA's fire safety standards, click here.
11. Double-check hazardous material & labelling
To prevent major injuries, always make sure to double check hazardous materials and ensure they have the right labelling.
An improperly labelled hazardous item can lead to accidents and injuries. As a result, make sure you verify the labelling, storage, and shipping of any hazardous material.
12. Check storage protocols
Ensure your warehouse is following the proper storage protocols for different types of inventory. This includes storing flammable, combustible, and hazardous materials in the right environment to minimise danger.
When it comes to storing heavier items on warehouse racks, be sure to store long, tall or top-heavy inventory on their side or secure them to prevent potential tip over.
13. Inspect the loading bay
Surprisingly, about 25% of all reported warehouse injuries occur on loading docks.
The loading bay is a dangerous area since trucks are constantly coming in and out of it. Ensure your loading bay is free from clutter or things that would block line of sight for drivers.
OSHA suggests to uphold loading dock safety regulations by:
Driving forklifts slowly on docks and dock plates
Securing dock plates and making sure the plate can support the load
Keeping clear of dock edges and never back up forklifts to the dock's edge
Providing visual warnings near dock edges
Making sure that dock ladders and stairs meet OSHA specifications
14. Locate & mark warehouse exits
Just like the fire safety signage, make sure all exits to the warehouse are properly marked. Review them and make the necessary changes to ensure all employees know where to exit the building in case of emergency.
15. Outline forklift pathways
In most warehouses, forklifts travel back and forth to move and store heavier items and pallets. It's always important to make sure that directions on pathways are clearly labelled to avoid serious injury.
To enforce the correct use of forklifts, clearly identify pathway lanes with signage and markings.
Two examples of warehouse safety in action
ShipBob offers ecommerce fulfilment warehousing solutions for fast-growing brands. With ShipBob, you can worry less about the safety of a staff and overall management of a warehouse.
Here are two examples of how ShipBob puts warehouse safety in action.
1. COVID and warehouses
At the very start of the pandemic, ShipBob established a business continuity plan with a tremendous focus on safety to ensure we kept our employees safe and our fulfilment centres operating.
ShipBob ensured that all fulfilment centre employees wore mandatory PPE, social distancing was enforced, and other additional precautionary measures were put in place.
ShipBob required all employees to be masked and at least remain six feet apart at any given time. We also took precautions to properly disinfect the surfaces. Furthermore, we added a Hazard (or Hero) Pay during the pandemic to increase the wages of those working in the warehouses.
2. FDA-certified warehouses
Additionally, all of ShipBob's fulfilment centres are FDA-certified warehouses. This allows us to safely store non-perishable food and beverage, vitamins and supplements, and other types of specialized items for fulfilment.
With locations across the country (and globe), ShipBob can easily support products across many verticals and industries.
"ShipBob provides the storage conditions we need to ensure our highest-quality food products are stored and delivered to our customers in a safe and effective manner."

Pablo Gabatto, Business Operations Manager at Ample Foods
Choosing a 3PL: Warehouse Safety Comes First
Warehouse management requires a big investment in the right tools and equipment to ensure safety, improve productivity, and bring forth logistics automation.
It can be difficult maintaining a safe warehouse and making sure everything is up to OSHA's standards while keeping track of other aspects of your business.
As a best-in-class 3PL, ShipBob's warehousing services offer access to a global fulfilment network that is operated by the same warehouse management system (WMS).
With our premium tech stack, merchants are able to expand into multiple distribution centres and track real-time inventory levels, order status, and fulfilment and shipping performance from a single dashboard,
"Logistics is something you never think about until it stops working, and we've never come to that point with ShipBob. Everything just works. We are super happy with ShipBob and very impressed by how well they've pumped out our large volume of orders."

Sergio Tache, CEO of Dossier
ShipBob takes warehouse management and safety operations off your plate, so you can focus on growing your business.
Get started with ShipBob today by clicking the button below.
Better warehouse safety starts with the right WMS
To improve warehouse safety, you need the right equipment, training, and tech in place. ShipBob has a best-in-class warehouse management system (WMS) for brands that have their own warehouse and need help managing inventory in real time, reducing picking, packing, and shipping errors, and scaling with ease.
With ShipBob's WMS, brands with their own warehouse can even leverage ShipBob's fulfilment services in any of ShipBob's fulfilment centres across the US, Canada, Europe, and Australia to improve cross-border shipping, reduce costs, and speed up deliveries. 
Request ShipBob's WMS pricing here.
Warehouse safety FAQs
Here are common questions related to warehouse safety.
What are some safety rules for a warehouse?
OSHA requires that employers buy PPE (personal protection equipment) as needed for all of their employees. There should also be regular safety training sessions to keep all staff up to date on top safety measures. It's also a requirement to have emergency signage clear and visible.
How to improve warehouse safety?
You can improve warehouse safety by customising your safety strategy that meets your warehouse safety needs. For instance, decluttering walkways and forklift routes can help you not avoid injuries, but it can also help improve warehouse productivity. To further reduce warehouse congestion, creating designated forklift routes and walking routes can help.
How can 3PLs implement warehouse safety?
3PLs like ShipBob provide warehousing and distribution services, along with fulfilmentsolutions. Rather than leasing and managing a warehouse yourself, you can outsource fulfilment to ShipBob and worry less about warehouse safety measures. We also ensure that all inventory is optimally stored to safe you costs, and you can track real-time inventory levels from the ShipBob dashboard at any time.
How often should you carry out a warehouse safety inspection?
Warehouse audits should be done frequently. How often is based on the size and complexity of your warehouse. Depending on how large your warehouse and the types of products stored, it can range from anywhere between every few weeks to every quarter.